A Once in a Lifetime Opportunity
With domestic cleaning now regarded as a necessity rather than a luxury by many, there is no cap to your earnings by starting a cleaning franchise.
Download a Prospectus Today!
What Can I Earn Starting a Cleaning Business?
As with everything in life, the more you put in, the more you get out. The same can be said when starting a cleaning business with us. We don't believe in paring the franchise package down to the absolute minimum in order to be competitive with other UK cleaning franchises. Neither do we believe in making meaningless gestures and promises to buy back your franchise.
Running any successful business requires an investment in marketing and the bigger the initial investment, the bigger the rewards. That's why we include a huge Royal Mail leaflet delivery in the franchise fee – so that you see bigger rewards in a shorter space of time. The premise is simple – the more marketing you undertake, the more business you will gain. We think it's worth that extra investment at the beginning in order to kick start your cleaning business from the very start.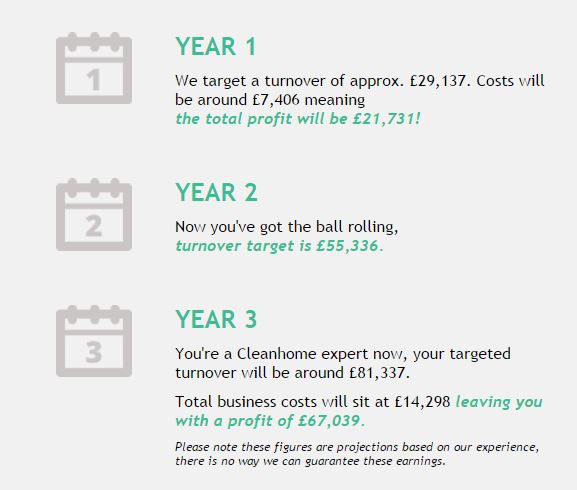 Why Choose a Cleanhome Franchise?
Quality is at the Heart of our Business
We put time an effort in to ensure business owners, cleaners and customers all receive the highest quality service from all at Cleanhome.
Unlimited Profits
Start a cleaning business with Cleanhome and benefit from an uncapped earning potential. Considering your territory contains 100,000 houses, earnings of £60,000 can be gaining from having just 200 clients, so the earn possibilities really are endless.
Years' of Experience
You can benefit from our years' of experience in marketing and managing cleaning franchises. We'll teach you everything you need to know about running a cleaning business.
Repeat Business Model
The Cleanhome business was set-up to continue making money. Each customer you gain should generate repeat income on a monthly basis rather than a one off sale. Customers are required to pay 3 months in advance, with no stock to purchase and no bad debt, you'll always have a positive cash flow.
Exclusivity for Territories
Unlike many other cleaning franchises, Cleanhome franchisees are given their own exclusive territory containing approximately 100,000 households. With 200 clients, you could earn around £60,000 – so earning potentials for each franchisee are huge.